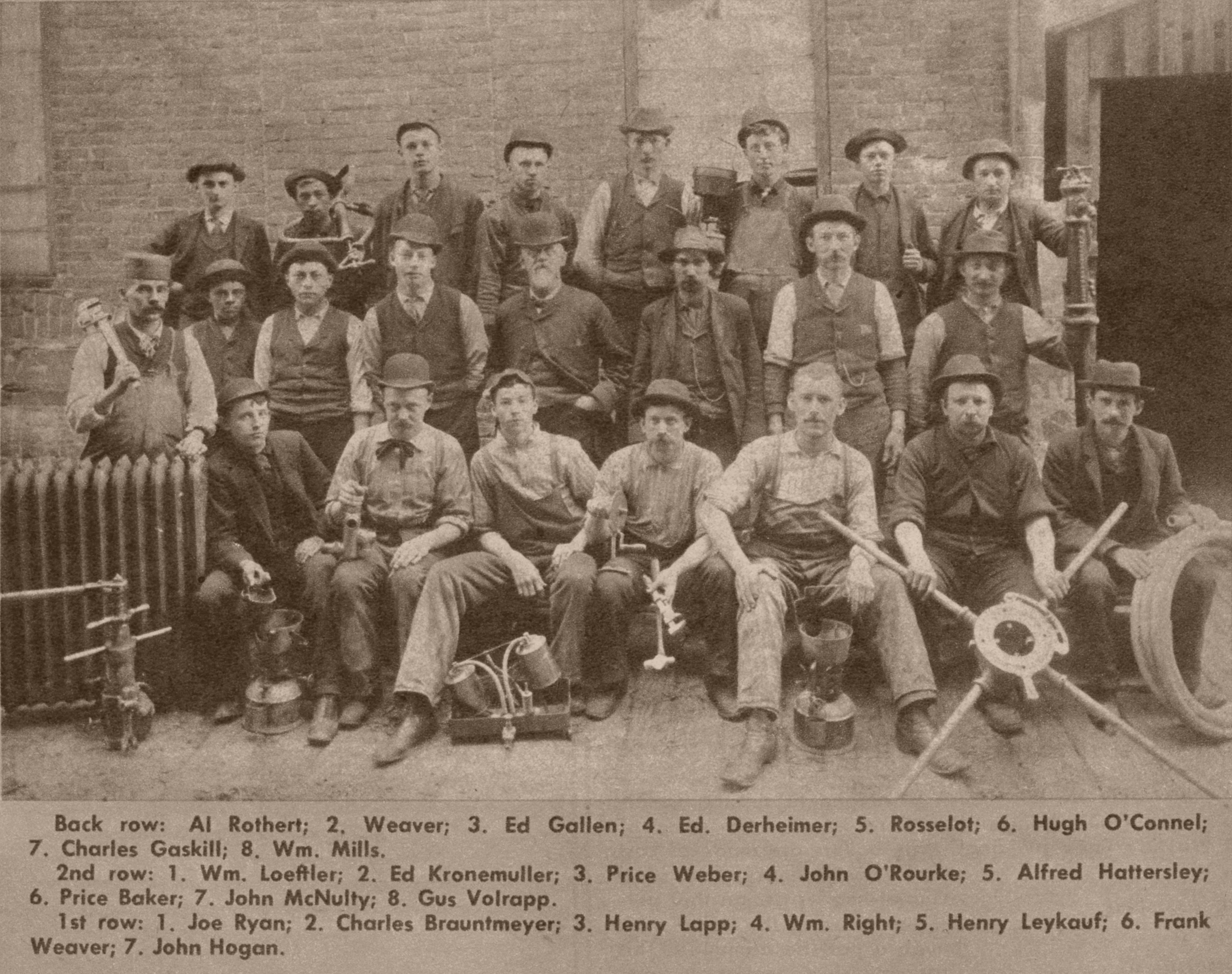 As the oldest mechanical contractor in Indiana, A. Hattersley & Sons has persevered through the U.S. Civil War, both World Wars, several depressions, and the addition of twenty-seven states to the Union. The company has endured many challenges, and has successfully adapted to each of these by evolving its social conditions and technical standards for over 160 years.

In 1856, Alfred Hattersley, an English immigrant, purchased the plumbing, gas-fitting firm of B. W. Oakley & Son.  He relocated the operation onto Main Street, near the present Allen County Courthouse. Like the company does today, Hattersley embraced new technology by installing a steam engine in his machine shop, where valves cast in his foundry were finished.
The young firm provided plumbing, heating, and electrical services, along with terrazzo flooring. Hattersley's son Byron, who was born in 1856, joined the firm after graduating college – a rare occurrence in the 1800's! Much of their business involved the installation of cisterns and wells. This changed after the city built a waterworks, which created a demand for indoor plumbing – and thus, an opportunity for the business to expand.
Hattersley's other sons, Willis and Alfred, joined their brother Byron in the family business. Byron's sons, Harry and Eugene, succeeded him in leadership of the enterprise. In the fall of 1955, the company was incorporated.  At this time, the old office was razed to make room for the Anthony Wayne Bank, and the operation was transferred into a new building on Mobile Avenue – where the corporation resides to this day.
In February 1956, a younger member of the firm, Harmon O. Hensley, took over management from the Hattersleys, and continued to help the business grow. In 1964, Hensley became president of the firm.
Under Hensley's leadership, the family business invited key employees to share in ownership of the company.  This number included his two sons, Harmon Olin and Brian.  In 1985, Hensley was succeeded in the presidency by his eldest son Harmon Olin.  In 1994, Brian became CEO.
While the company was controlled by Brian Hensley, other key employees became shareholders.  These individuals included Brad Jenkins as vice president and Jack Koehne as president.  After his passing in 2015, Koehne succeeded him, and he is now both the CEO and the president of A. Hattersley & Sons.
Although the last Hattersley left the company in 1967, all of the current shareholders have a portion of Hattersley blood in their veins, regardless of surnames. They are proud to be responsible for keeping the founder's name alive as the oldest mechanical contractor in Indiana. Our next generation of leadership, directed by Jack Koehne, is determined to carry on the Hattersley legacy well into the future.

After all, we have our two-hundredth birthday party coming up in only thirty-six years!