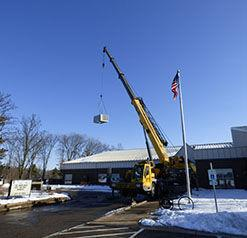 Source Bryan Times Newspaper 

Steve Morris, of Dirig Sheet Metal company, hooked the straps onto the 3,000-pound steel HVAC unit, then stood back as crane operator Kent Carlin hoisted the Trane AHU commercial grade heating and air conditioning unit onto the roof of the Williams County Family YMCA Wednesday.
It was a beautiful sight to Beth Konczal and Heather Jones, who smiled as they watched from a safe distance in the Y's parking lot on a chilly but clear February day. For one thing, the heat would be restored again to the Bryan Y's front offices and a few other areas at the front of the building.
But more importantly, it was what it represented that made Konczal gush. Once the Y discovered in November the HVAC unit had quit working, Konczal said the Williams County community responded and covered the entire $50,000 cost of the 20-ton capacity HVAC unit and its installation.
"It's remarkable how this community really came together to make this happen. It's a miracle ... it's really been a blessing," said Konczal

The Y's interim executive director/CEO since last summer, when former director Rob Imber resigned to pursue other professional opportunities.Jones, the Y's senior program director, said in November, when it was time to switch on the heat for the front offices and a few other areas of the Y, "it never turned on," she said.
"We had no idea what it would cost (to fix)," Konczal said, adding it apparently was the original unit installed when the Y was built in 1989. "We thought it would be a couple of parts," said Jones. But it wasn't that easy; the Y needed a whole new commercial grade HVAC unit, estimated to cost around $30,000. "When we found out how much it would cost, we took it to the board, and they took it from there," Konczal said 

Explaining that Bryan resident and Y board chairman Oakley Roberts, vice president at Trane Commercial HVAC, took the lead in securing the donation of a Trane unit through a company program that coordinates community partners to assist local non-profits.Roberts in turn knew he needed someone local and qualified to coordinate the project and all the businesses and contractors needed to complete such a specialized project. So he contacted Bill Martin, Spangler Candy Co. president and former YMCA board member, for some guidance.
"He called me and told me what he needed, and I said, 'I have just the right man for you,'" Martin said with a laugh, referring to Gary Burggrave, Spangler's director of maintenance/engineering.
In addition to Trane, Fort Wayne, Indiana-based Dirig and Spangler's, Burggrave took the lead in bringing together Hattersley & Sons Inc., Woolace Electric, Carlin Construction and K & K Insulation to volunteer their time and/or equipment to complete the project.
"It was just remarkable how they all coordinated together to make this happen," Konczal said, noting that the mission of the YMCA is to strengthen community, "and today the roles were reversed and the community strengthened the Y. "We have a great community. Thank you to all our volunteers for their time and talent. It is truly a blessing to have dedicated volunteers who understand the importance their local YMCA has in their community," Konczal said.