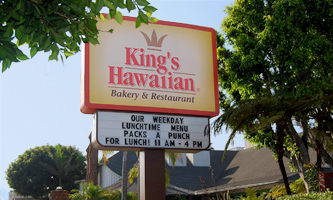 When King's Hawaiian constructed a 150,000 square foot, state of the art baking facility and corporate headquarters also in Torrance CA. they relied on A. Hattersley & Sons to manage the installation of the manufacturing equipment packages. Coordinating and supporting installation crews from six equipment suppliers – including four companies from Europe – and managing the related local tradesmen was a complex task. Exacerbating the situation were Cultural differences and the stringent requirements applicable to facilities located in Seismic Zones.
A unique plan was developed to bridge the Cultural differences and coordinate the activities of the dozen firms involved in the installation. The US-based crews – accustomed to a six AM start – would meet the European technicians early each morning to plan the day's activities. Once the US crews were underway, the nine-to-five Europeans would enjoy the breakfast we catered in each morning for them!
This accommodation increased efficiency and improved communication by aligning the break and lunch periods of the two groups. Teamwork was fostered as the two crews bonded over break periods. As a side benefit, the extended coverage period increased flexibility in scheduling the busy LA inspectors.
Project Highlights:
---
Location: Los Angeles, California 
Engineer: Fluor Daniels 
Total Project Cost: $4 million 
Total Square Feet: 150,000